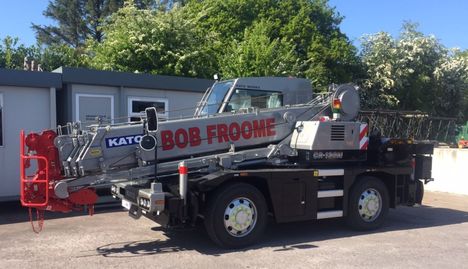 The CR-130Ri has a 24 metre, six section boom with a two stage, 3.6 to 5.5 metre hydraulic luffing jib. The CR-200Ri has a 28 metre, six section boom and a four to 5.8 metre telescopic jib that can offset by up to 60 degrees. The order was placed with Kato's European distributor Rivertek Services, and the cranes will be delivered later this month.
Tony Froome said: "We have been running Kato cranes for 20 years now and have been very impressed with their quality and reliability. The Kato CR-130Ri and CR-200Ri comply with our strict axle weight requirements on Guernsey. Their compact design, long boom lengths and the user-friendly hydraulic underslung fly jib design, have also been major factors in our decision to buy Kato."
Rivertek's Colin Cleary added: "We are delighted to have secured this deal with Tony and Roger Froome. We have a long standing relationship with Bob Froome & Sons which we have built up through the years and we look forward to supporting these new cranes in Guernsey. We believe these cranes are a perfect choice for Guernsey and will increase the overall population of Kato cranes on the island."
Froome's CR-130Ri will be shown on Rivertek's stand at Vertikal Days, Silverstone next week.