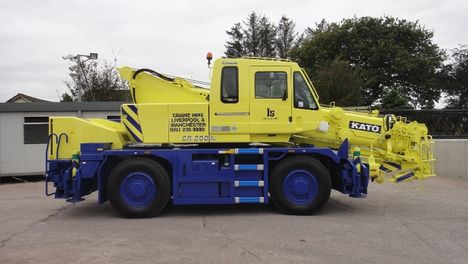 UK rental company John Sutch Cranes has taken delivery of a 20 tonne Kato CR-200Ri city-type All Terrain crane.
The CR-200Ri has a six section 28 metre boom and a four to 5.8 metre telescopic jib that can offset by up to 60 degrees. It was supplied by European Kato distributor Rivertek Services, and joins a fleet that already includes another Kato CR-200Ri and a 35 tonne CR-350Ri.
Chief executive John Sutch said: "We are delighted to receive this new CR-200Ri into our expanding fleet of Kato city cranes. We will continue to invest in these cranes which offer many unique capabilities not available from other manufacturers."
Colin Cleary of Rivertek added: "We are delighted to deliver another new Kato crane to John, Hayley and all the team at John Sutch Cranes. In 2015 John Sutch Cranes was the first company in the UK to invest in this new range of Kato cranes and it is a great endorsement to see them investing in Kato in 2016 and again in 2017. We thank everyone there for their continued support and we look forward to working with the team in the future."