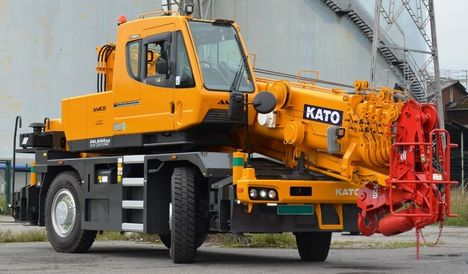 Spanish Kato distributor AMCO Machinery & Consulting has taken delivery of a number of 13 tonne Kato CR-130Rf and 20 tonne CR-200Rf city type All Terrain cranes.
The CR-130Rf features a 24 metre, six section boom with a two stage, 3.6 to 5.5 metre hydraulic luffing jib. The CR-200Rf features a 28 metre, six section boom with a 5.8 metre telescopic jib. The order was placed during the launch of the new models at Vertikal Days in May, and delivered by Kato's European distributor, Rivertek Services.
Kato CR-200Rf
Managing director Bert Wiegel said: "We can see a wide range of use for these Kato city type All Terrain cranes here in Spain, in different industries like automotive, food and beverage industries and construction sites particularly in historic town centres etc. Katos are a classic product with high product and service quality, impressive technical performance and are easy to operate. We sold many new Kato Ri city cranes here in Spain which are in everyday use and are performing very well. Customers like them a lot."
Bert Wiegel of AMCO Machinery & Consulting (L) and Colin Cleary of Rivertek Services
Rivertek Services managing director Colin Cleary added: "We are delighted to receive this order from AMCO which will include a mixture of the new CR-130Rf and CR-200Rf models. The new features on the Rf range, especially the searcher hook and increased road speed are widening the scope of work that can be completed by these Katos. We look forward to supporting AMCO Machinery in the future and growing our market presence in Spain."
AMCO is based in Gijón, northern Spain, and also distributes Ruthmann truck mounted platforms, while focusing on used equipment as well as new, including All Terrain and crawler cranes, boom lifts, scissor lifts, truck mounted platforms and telehandlers.