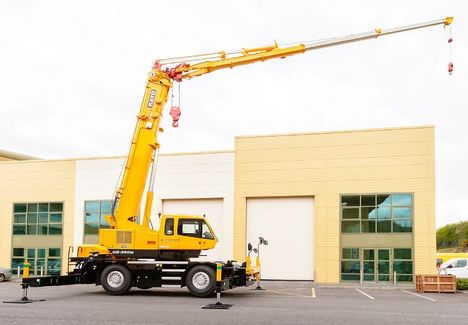 UK rental company Cambridge Crane Hire has taken delivery of a 35 tonne Kato CR-350Ri city-type All Terrain crane from local distributor Rivertek Services.
The crane features a 32.5 metre six section boom and a three section hydraulically telescopic jib that extends from 6.5 to 14 metres and can offset by up to 60 degrees. It joins a fleet that includes a 22 tonne Kato MR-220 city crane that has been in its fleet for some time.
Cambridge Crane Hire managing director Steve Carter said: "We have operated Kato cranes for many years and are very pleased with their quality and performance. The variable outrigger system and the full power hydraulic fly jib which can telescope and offset under full load are innovative features. We know the guys at Rivertek and they were able to deliver this crane to us at short notice, all of which made our decision to invest in a Kato quite easy."
Rivertek's Ivan Bolster added: "We are delighted to have delivered one of our first Kato cranes for 2017 to Steve and the team at Cambridge Crane Hire."
Based in Huntingdon, Cambridgeshire, family owned Cambridge Crane Hire has been in business for around 30 years and runs a fleet of seven cranes.