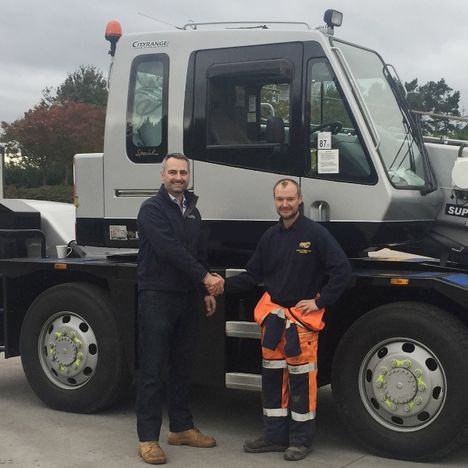 UK rental company Steve Foster Cranes has taken delivery of a 13 tonne Kato CR-130Ri city type All Terrain crane. The crane has a 24 metre, six-section boom with a two-stage, 3.6 to 5.5 metre hydraulic luffing jib. The crane was delivered by Kato's European distributor Rivertek Services.
Kato CR-130Ri
Director John Foster said: "I am delighted with this new addition. We can see a lot of work for it in our area and we hope to add another to our fleet next year. We inspected the crane at Rivertek's facility in Cannock and 20 minutes later the deal was done. We have invested a lot in new equipment already this year but the Kato argues its own case and will pay for itself quite easily."

Rivertek operations manager Ivan Bolster added: "It is a pleasure to supply the new addition to Steve and John. The cost of a Kato compared to its earnings every week, not to mention every year makes sense. It is a strong 13 tonne crane, it is versatile with rear steering options and a 5.5 metre hydraulically luffing fly jib. It offers the latest features and technology not available from other manufacturers."
Ivan Bolster (L) of Rivertek with John Foster of Steve Foster Cranes
Celebrating 40 years in the industry, the family owned Steve Foster Cranes is based in Doveridge, Derbyshire and runs a fleet of about 20 cranes ranging from seven to 220 tonnes as well as loader cranes and transport.