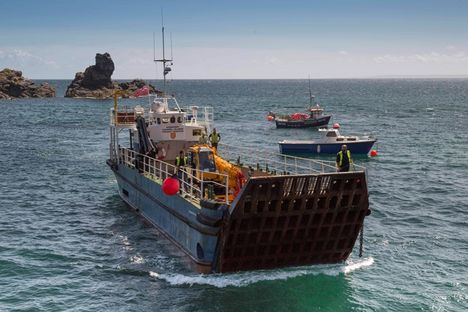 The government of Sark in the Channel Islands has taken delivery of a 20 tonne Kato CR-200Ri city type All Terrain crane.

Replacing an older Kato crane, the CR-200Ri features a 28 metre main boom, topped by a four to 5.8 metre telescopic jib, and also includes outrigger length sensors with multiple set up options, and a new colour touch screen for the safe load indicator. The crane was supplied by Kato's European distributor Rivertek Services, and will be used mainly to load and unload supply boats to the island.
Rivertek's Colin Cleary said: "We are delighted to deliver this new Kato CR-200Ri to Sark Island. The fact that Sark have chosen Kato again is a great endorsement of the quality and reliability that Kato is famous for. We were absolutely confident many years ago that Sark's first Kato would be a success and likewise for this new Kato CR-200Ri, we are sure it will be a perfect crane for this application."
The crane was delivered via one of Sark's beaches


Sark seneschal/Seigneur Jeremy La Trobe-Bateman added: "The compact size of the CR-200Ri means it is very easy to move around the island. The controls are very smooth, the operators cab is well laid out and comfortable and the ACS is excellent and having two winches as standard is a bonus not available from any other manufacturer."