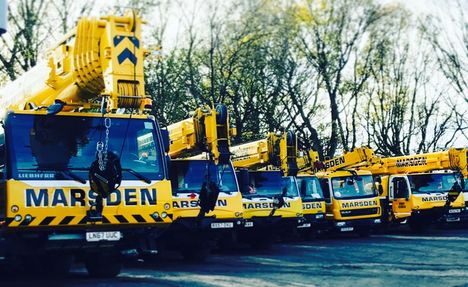 UK rental company Marsden Crane Services has ordered a 13 tonne Kato CR-130Ri city type All Terrain crane.

The crane has a 24 metre, six section boom with a two stage, 3.6 to 5.5 metre hydraulic luffing jib. The order was placed through Kato's European distributor Rivertek Services.
Kato CR-130Ri
Technical manager Lee Marsden said: "At Marsden Crane Services we take pride in our ability to complete challenging and difficult lifting operations. Our requirement for a small and flexible machine to undertake such work attracted us to the Kato CR-130Ri with its variable outrigger base, 24 metre main boom and 5.5 metre luffing jib. Following a demonstration of the machine at Rivertek in Cannock, we were very happy to agree the deal with Ivan."

Ivan Bolster of Rivertek Services added: "We are delighted to receive this order for a new Kato CR-130Ri from Marsden Crane Services which is scheduled for delivery over the next few weeks. Marsden Crane Services bring a wealth of knowledge to the industry and are focused on investing in the latest technology and enhancing their fleet of cranes and in turn their range of products to offer their customers."
A snapshot of Marsden's crane fleet
The Marsdens can trace their crane hire roots to the original Marsden Crane Hire formed by Keith Marsden registering it as a limited company in 1997. The company was taken over by the Specialist Hire Group in 2003 and Marsden remained on board as a director while his sons worked within the business. Ainscough acquired Specialist in 2015, which is when Brendan, Lee and Dale Marsden formed the new Marsden company, which now runs a fleet of nine cranes ranging from five to 60 tonnes covering the north west of England.