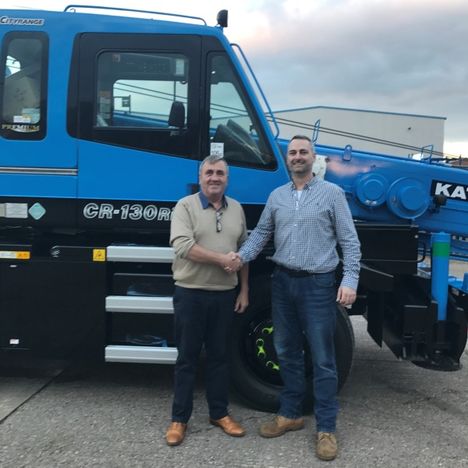 K crane rental company G Casserly & Sons has taken delivery of a 13 tonne Kato CR-130Ri city type All Terrain crane.

The CR-130Ri features a 24 metre, six section boom with a two stage, 3.6 to 5.5 metre hydraulic luffing jib. The crane was sold and delivered by Kato's European distributor Rivertek Services.
The new Kato CR-130Ri
Managing director George Casserly said: "We sold our seven tonne truck crane late last year as we needed to replace it due to upcoming MOT regulations. The 13 tonne Kato is the ideal upgrade as it has a longer boom, rear steering, hydraulic fly jib, almost 100 percent increase in capacity from the seven tonner, and is physically a smaller crane. We visited Rivertek's depot in Cannock to inspect the crane and it is definitely the right machine for our company."
George Casserly (L) and Ivan Bolster
Rivertek UK operations manager Ivan Bolster added: "Following on from strong sales in December and January we are delighted to see continuous demand for Kato city cranes. This new CR-130Ri turned out very well painted in Casserly colours and it has been a pleasure doing business with George and the team. The crane will be displayed on the Kato stand at Vertikal Days in Donington Park."

G Casserly & Sons has been operating for more than 25 years, specialising in crane rental, steel fabrication and erection, and heavy haulage. Its crane fleet ranges from seven to 35 tonnes.