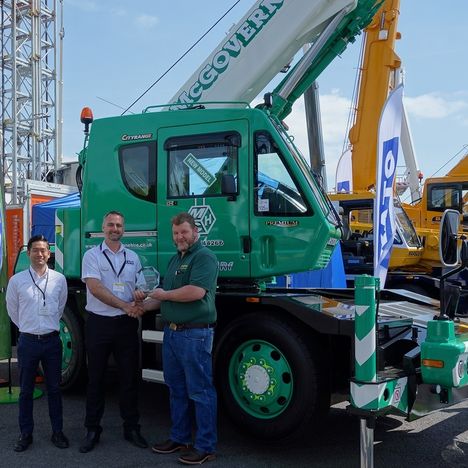 UK rental company McGovern Crane Hire has taken delivery of a 13 tonne Kato CR-130Rf city type All Terrain crane, the first in Europe.

The CR-130Rf features a 24 metre, six section boom with a two stage, 3.6 to 5.5 metre hydraulic luffing jib. The new crane, sold and delivered by Kato's European distributor Rivertek Services, was on display at Vertikal Days before being collected by director Eddie McGovern at the end of the show and driven to the company's headquarters, ready to go to work the following day.

(L-R) Shunki Toda of Kato, Ivan Bolster of Rivertek Services and Eddie McGovern of McGovern Crane Hire at Vertikal Days

McGovern said: "We are extremely pleased to have the first new model Rf series crane in Europe and we can see an increased range of work with the increased speed and searcher hook. We have ran Kato's for a long time and we know their reliability and quality. The crane was delivered on time by Rivertek and hope in the future to have some more Kato additions to the fleet."

Rivertek Services operations manager Ivan Bolster added: "We received a lot of interest in the new Rf Series cranes at Donington Park and these new features are as a result of positive feedback between customers, ourselves and Kato. It is a pleasure to be able to supply the first new model 13 tonne crane in Europe to McGovern Crane Hire as Tommy, Eddie and Kieran are a pleasure to deal with. We expect the new features like increased speed, Stage 4 engine etc to open up a lot more industries and markets."

Established in 1995, McGovern Crane Hire is headquartered in Nottingham, England and runs a fleet of cranes ranging from 13 to 250 tonnes.