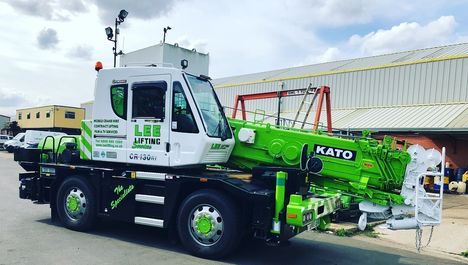 The CR-130Rf features a 24 metre, six section boom with a two stage, 3.6 to 5.5 metre hydraulic luffing jib. The new crane was sold and delivered by Kato's European distributor Rivertek Services, and adds to a 20 tonne Kato CR-200Ri in the company's fleet.
Lee Lifting's Tim Williams said: "We have had an excellent business relationship with Rivertek spanning the last two decades and are excited to be adding the very latest in Kato city cranes to our fleet. We have run Kato cranes in our fleet for a very long time so we know them very well and the increased road speed is an advantage for covering more work."

Kato CR-130Rf
Rivertek Services operations manager Ivan Bolster added: "We are delighted to supply Lee Lifting with the new CR-130Rf, we have always found them to be a pleasure to do business with and we are sure that this crane will be a great asset to their fleet. It is a strong 13 tonne crane, it is versatile with rear steering options and a 5.5 metre hydraulically luffing fly jib and three tonne searcher hook. It is a compact crane and as you can see in the photos it was set up in the front drive of a person's house with minimal impact using its variable outrigger technology. The new Kato Rf series is a great addition for any company and we look forward to working with Tim and the team again in the future."

The crane features a six section boom
Established in 1981, Lee Lifting is based in Feltham, Middlesex, south east England. The company runs a fleet of All Terrain, city type and loader cranes ranging from 10 to 220 tonnes. For the last 35 years the company has built a reputation supplying a crane service to the film and television industry.