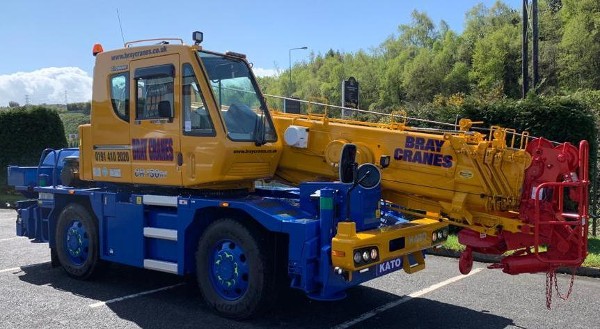 UK sales and rental company Bray Cranes has ordered a 13 tonne Kato CR-130Rf city type All Terrain crane.

The CR-130Rf features a 24 metre, six section boom with a two stage, 3.6 to 5.5 metre hydraulic luffing jib. The new crane, ordered at Bauma through Kato's European distributor Rivertek Services, will replace an older 13 tonne Kato city type All Terrain crane in the company's fleet. It will also be displayed on Rivertek's stand at Vertikal Days next week.
Bray's new Kato CR-130Rf
Managing director Peter Bray said: "We are delighted to add another new Kato city crane to our fleet. We have been very impressed with our Katos to date and we can see an increased range of work with the increased speed and searcher hook. All our city crane operators are familiar with these cranes and it makes it easier for operators changing from one Kato to another."

Rivertek's Ivan Bolster added: "We are delighted to deliver this new Kato to Bray Cranes. We shook hands on the deal at Bauma and have had the crane painted, sign written and ready to be displayed at Vertikal Days before being delivered directly from the show."
L-R - Ivan Bolster of Rivertek, Peter Bray of Bray Cranes and Colin Cleary of Rivertek at Bauma
Based in Gateshead, north east England, Bray Cranes was originally established in the early 1950s as Reeds Cranes. It's fleet of All Terrain cranes ranges from the new 13 tonne Kato to a 130 tonne Liebherr LTM 1130-5.1.