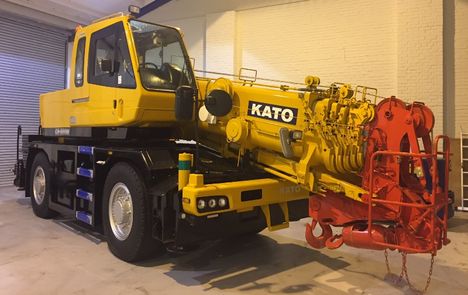 Welsh rental company B&A Cranes has taken delivery of a new 20 tonne Kato CR-200Ri city-type All Terrain crane.

The crane - which follows the purchase of a 13 tonne Kato CR-130Ri earlier this year - has a six section 28 metre boom and a four to 5.8 metre telescopic jib that can offset by up to 60 degrees. The new crane - which replaces an existing 25 tonne Kato CR-250 - was delivered by Kato distributor Rivertek Services.

Bob Dunn of B&A Cranes said: "The CR-200Ri is a perfect replacement for the older CR-250 model for us. Both cranes have the same main boom length of 28 metres but the CR-200Ri is a much more compact crane which allows us to work in more confined spaces which happens a lot."
Rivertek managing director Colin Cleary added: "We are delighted to deliver another new Kato to Bob and the team at B&A Cranes. We have been dealing with them for more than 15 years and we look forward to working with them again in the future."

Family owned B&A Cranes has been operating cranes in the Swansea and the surrounding areas for more than 20 years.