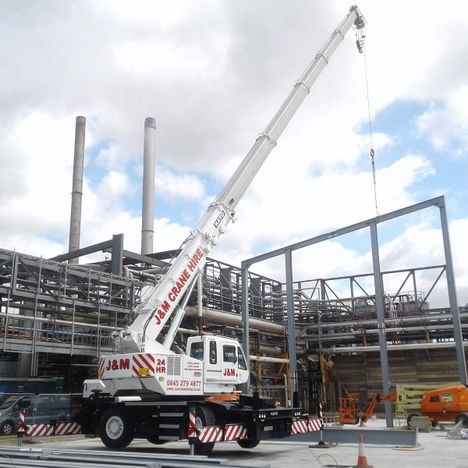 UK rental company J&M Crane & Transport has taken delivery of a 35 tonne Kato CR-350Ri City type All Terrain crane.
The CR-350Ri features a 32.5 metre six section boom and a three section telescopic jib that extends from 6.5 to 14 metres and can offset by up to 60 degrees. The crane was delivered by Kato's European distributor Rivertek Services.
Managing director James Lawrence said: "This new Kato has joined our extensive fleet of cranes and is replacing a 25 tonne Kato City crane that we purchased from Rivertek over 10 years ago."
Colin Cleary of Rivertek added: "We are delighted to deliver this new Kato CR-350Ri to James, Ben and the team at J&M, who have been customers of ours for many years. It is a trend that has developed over the past two years, customers with existing 25 tonne City cranes will either upgrade to a new CR-350Ri or a new CR-200Ri, depending on their job requirements. This allows customers to take advantage of the latest features and technology offered by Kato while still having the comfort and reliability of a quality Kato City crane in their fleet."
J&M operates from Gravesend, Kent and has been in business for over 60 years. It runs a fleet ranging from 35 to 220 tonne All Terrain cranes as well as a fleet of transport equipment.