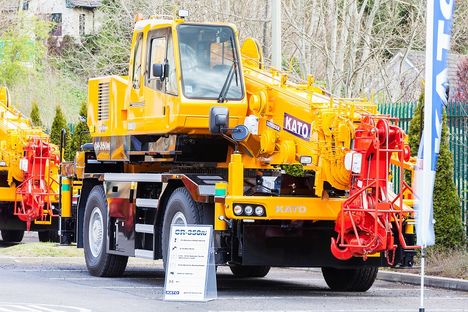 Welsh rental company B&A Cranes has taken delivery of a 35 tonne Kato CR-350Ri city type All Terrain crane.

The CR-350Ri features a 32.5 metre six section boom and a three section telescopic jib that extends from 6.5 to 14 metres and can offset by up to 60 degrees. The crane was delivered by Kato's European distributor Rivertek Services, and joins a 13 tonne Kato CR-130Ri and 20 tonne CR-200Ri already in the company's fleet.

Kato CR-350Ri

B&A Cranes director Bob Dunne said: "We are always looking to offer the very best service for our customers and are delighted to add this new Kato CR-350Ri to our fleet. We have been impressed with Rivertek and this new range of cranes which made the decision to invest further in Kato very easy. We now have the complete set of Katos in our range, we need reliable cranes for our customers and that is what we have."

Rivertek operations manager Ivan Bolster added: "With less than 20 days to Vertikal Days in Donington Park, we are delighted to be able to display this new addition for Bob and the team at B&A Cranes on Rivertek's stand. We pride ourselves in supporting our customers and being able to offer them the best in reliability, value for money with a world class product."

The crane will be on Rivertek Services' stand at Vertikal Days

Established over 20 years ago, family owned B&A Cranes is based in Swansea, but also covers the surrounding areas of Llanelli, Port Talbot, Cardiff, Carmarthen and Milford Haven. The company runs a fleet of All Terrain cranes ranging from 13 to 80 tonnes.